CHATTOOGA RIVER FLY FISHING
The Chattooga River begins its journey in the hills of North Carolina and eventually becomes a 40-mile border between South Carolina and Georgia. There are two sections of this river that known through out the country and they are both related to the Highway 28 Bridge. Downstream of the bridge is known for its great white water rafting. Upstream from the bridge is considered to be one of the top 100 trout streams in America. One other fact about the river is that the movie Deliverance was filmed here.


This section of river is lined with large oak and hemlock trees that keep the water temperatures cooler perfect for the native trout. Combine the temperature with the oxygen levels that are created because of a steeper than most gradient along with scattered waterfalls and you are only lacking one thing for the trout, food.
There are hatches of winter stoneflies from Jan – Mar followed by Blue Winged Olive that are present from Feb through most of the year. You will also find Blue Quills, Black Caddis and Hendrickson's occurring in March. Pale Morning Duns begin in mid May along with Little Yellow Stoneflies.
Mahogany duns peak in August and run a couple of months. Slate Drakes and Autumn Brown Sedges keep it going during the fall along with terrestrials. You can see that the fish on this river are well fed; there is always something for them to eat. They still have the below surface flies like sculpin, midges and crane flies.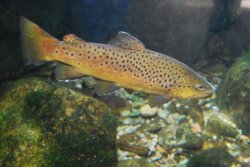 The Department of Natural Resources has done a great job preserving this fishery, with delayed harvests and single hook regulations through fall and spring. Be sure to read the regulations for this and other South Carolina water.
There is great access from many trails to this great stream even though it is not an "in-town" river. There are only two roads that cross this river, one is HWY 28 and the other is Burrell's Ford Road. You will find yourself hiking to some degree in order to fish this stream.
The best fishing on the Chattooga River is from April through June, but you will find some good fishing yearlong. Be sure to have all licenses for any water you are going to fish since you are right on the border of 3 states.

Fishing report with current stream flows

View Larger Map


Leave Chattooga River page and return to South Carolina page.

South Carolina Fishing Regulations