RIVER HATCH LISTING
This is a river hatch listing by state of some of the more popular fishing streams in America. These pages are listed alphabetically by state to help you find the river quickly. I will continue to add more hatch charts as time allows.

Hatch charts are very important to fly-fisherman in their battle against trout. It gives you an understanding of what insects are commonly found on the river throughout the year. Using this information you will know what type of insects are commonly hatching on a particular stream and you will be able to match the hatch and net some fish.
I purchase many of my flies at a discount from Big Fly Company, and I also buy some from the local fly shops. Big Fly Company has a great selection of flies, line, tippet and other essential fly fishing items. They also ship very fast so you can have your items in days, depending on where you live.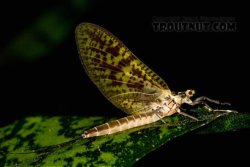 Local fly shops are very helpful and will let you know what flies to use. If the local fly shop guy is an avid fly fisherman, which he or she probably is, you should be able to get some great helpful information from them. They tend to fish many of the local streams and rivers and they stay in touch with other anglers as well which gives them valuable information to share.
You can also purchase flies from large on-line retailers. They will typically have a great selection of flies, and their pricing should compete well against other retailers.

CALIFORNIA
Fall River Hat Creek Hot Creek Lower Sacramento River McCloud River


COLORADO
Arkansas River Blue River Colorado River Frying Pan River Roaring Fork River


IDAHO
Big Wood River Henrys Fork Kelly Creek Silver Creek St. Joe


MAINE
Kennebago River Penobscot River Pleasant River


MICHIGAN
Au Sable River Boardman River Manistee River Muskegon River Pere Marquette River


MISSOURI
Crane Creek Current Creek North Fork White River



The use of flies is one of the most important aspects of fly fishing. Using the wrong fly any time will not get you the results you seek. You must know what fly to use and when to use it to increase your fish counts. Be sure to check out the page called presentation.


Leave the River Hatch listing page and go to the list of places to fish page.

Leave the river hatch listing and see where to fish.