FISH STORIES
I want to encourage everyone to submit their favorite fish stories for others to read. If you have been fly fishing long then there is no doubt that you have a story to tell. We have all heard other lies about our friends fishing experiences. Here is a chance to tell yours. Even if your fish story were true I would still like to put it on the web for others to view. I will start it out with one of my own.


Mikes Big Days on the Owyhee - June 2009
I like to fly fish the Owyhee River, which is located in Oregon near the Idaho border. In June of 2009 I had my two best fly-fishing days ever, and they were back-to-back.
My day did not start out so well. I was across the stream from a family of three and I was not having any luck using my complete selection of nymphs. As I was struggling I watched the three across the river bring in one fish after another for about 45 minutes.

Pretty soon the hatch came on and the fish started sipping the BWO from the surface. Over the next 30 minutes I caught about ten fish. While I was bringing the fish in one cast after another, their luck was over. I ended the day with a count of 18, and all but 4 were caught with a dry fly in about 1 hour. It was awesome!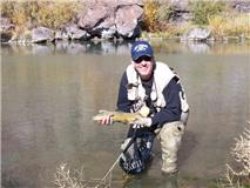 There are two things you need to know about the fish on the Owyhee. They are Browns and they are big. Most of the fish I touched that day were over 18" and a few were about 22". Rarely do you catch anything under 15", but don't tell anyone.
While I was not catching fish that day I asked the cross-stream neighbors what they were using and one told me it was a Hendrickson. I had never used that fly before and I asked where they got it and later purchased some.
I waited as long as I could to get back to the river. In 3 days I stopped at the Angler's Habitat Fly Shop in Caldwell, ID on my way to the river. I purchased this new fly that I saw work so well, and off to the river I went. The Hendrickson fly is a lot like a Pheasant Tail except the big difference is that it has yellow above the thorax.
I put on my new fly as part of a double dropper, with a red Zebra Midge below. I was at a different stretch of the river than before but soon found out that these fish liked the fly also. Before the day ended I had caught 14 fish with this new fly, and 4 on a BWO. The fish were about the same size as before, they always are.
So in two fly-fishing trips I managed to put up back-to-back 18 fish count days. It was amazing. Just when I was starting to get really frustrated the hatch came on, my luck changed, I found a new favorite nymph, and I posted a couple of great fly-fishing days that I will always remember. That is my fish story
TELL EVERYONE YOUR FLY FISHING STORY
Do you have a great fly-fishing story? Share it!
Owyhee River.

Leave fly fish stories page and return to home page.