WHERE TO FLY FISH IN YOUR STATE


If you want to know how to fly fish for trout in any state there are 3 very important things you need to understand. First, you need to know where to fly fish. You can waste all day fishing in the wrong spot on the wrong river, or you can talk to other fishermen and learn what rivers have good fishing. Once you found the water you need to have good equipment. You will need to make sure you have a good fly rod and reel set up, waders, boots and other fly fishing equipment. Now all you need to know is how to fly fish. This page is to help you find out where to fly fish.

You don't have to live in Colorado or Montana to experience great fly fishing. The fly- fishing there is known through out the world but there are many other good places to fly fish throughout the country. For years I use to fly fish close to home and the fish were small and few, I still enjoyed it but I always wanted to hook a big one. Then a friend told me a better place to fly fish that was an hour away from where I live and the fish are over 20" and there are plenty of them. What a difference!
There are many great places to fly fish in America, and with the help of our readers we have gathered some information about many of the best places in America to fly fish.
Click on one of the states listed below to find out where some of the best fishing is in that state.

WESTERN
Alaska California Colorado Idaho Montana New Mexico Oregon Utah Washington


MIDWEST
Michigan Missouri


SOUTH AND SOUTHEAST
Florida North Carolina South Carolina Texas


NORTHEAST
Maine New Jersey Vermont



Below is a map that has many of the rivers discussed on this website. We will continue to add more rivers. There are two ways to use this map. (1) Click on one of the blue pins and it will tell you what river that is. (2) If you click just below the map on "rivers" it will bring you up a listing of rivers and a larger map. Find your river in the alphabetical listing on the left and click on that river. It will take you right to the river.
You can get directions from any of these rivers from whatever starting point you input. Great for planning fishing trips to multiple waters.
I hope this helps. Please contact us if you would like to add other rivers to this map, or have some great information to share.


View Rivers in a larger map

The following pages are being worked on as time allows. Click on the link and it will take you to the page where you will see a list of some of the best rivers. You will also find a Google map of one or more of the rivers. I hope to have more information gathered soon with the help of the visitors of this site.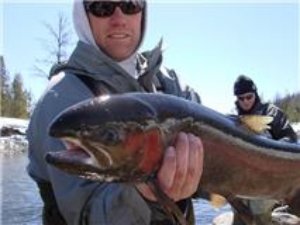 Arizona Arkansas Georgia New Hampshire New York Ohio Pennsylvania Virginia Wisconsin Wyoming

Leave state listing and return to home page

Leave this where to fish page and go to fishing equipment page