FLY FISHING MICHIGAN
Michigan is a great place to fly fish for trout and steelhead. From the great trout streams like the Au Sable River to the Steelhead waters of the Muskegon River, and the great Pere Marquette River there is something for everyone.

There is a wide variety of fish types like salmon and trout throughout the state, and the fish can be quite large. There is great fishing in every region of the state, which spreads the anglers out so it is does not get so crowded.
The best fishing in all of the Midwest can be found here and you can fly fish year round if you would like. Many of these rivers have great hatches so there is plenty of opportunity to set a dry hook. There is a lot to offer the serious fly fisherman, and you should see it for yourself. If you are looking for a fly-fishing guide there are plenty to choose from.

AU SABLE RIVER
The Au Sable River is one of the most known trout streams in the midwest, not just the state. This is a nice stream with great hatches and nice trout. The lower sections have great Steelhead runs.

Au Sable River

PERE MARQUETTE RIVER
Referred to by the locals as the "PM" this was the first river in North America where the German Brown Trout were planted 130 years ago. The river also has runs of Steelhead, Chinook and Coho Salmon.

Pere Marquette River

MUSKEGON RIVER
The Muskegon begins near Houghton Lake and ends up in Lake Michigan after going through three dams. It is the 2nd largest river in the state and has a variety of fish including Bass, Pike, Trout and Walleye as well as runs of Steelhead and Salmon.

Muskegon River

UPPER MANISTEE RIVER
The Manistee river stats near Alba and winds for nearly 80 miles before flowing into Lake Michigan. The Upper Manistee fly-fishing is between HWY 72 and downstream to CCC Bridge. The Upper Manistee produces some of the largest trout in the Midwest, and it is open year round in the fly's only area.

Upper Manistee River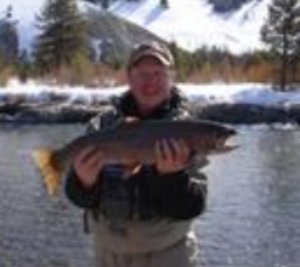 BOARDMAN RIVER
The Boardman River may be the finest wild trout stream in the state. The Boardman starts near Kalkaska and the river is not very wide, so a drift boat is not the best option. The Brown trout and Brook trout provide great fishing especially during the fall.

Boardman River

OTHER AREAS TO FISH
LITTLE MANISTEE RIVER
FORD RIVER
COOKS RUN
BETSIE RIVER
PLATTE RIVER
WHITE RIVER

---
Great family vacations along the picturesque Lake Michigan shoreline. Beautiful beaches, friendly people, and the kind of vacation spots that make memories of a lifetime. More about South-haven-to-saugatuck.com/

Fishing regulation and license info website.

Michigan is a great page to fly fish, click here to choose another state.