VIEWER COMMENTS
Everyone is always looking for viewer comments about other places to fish, do you know of any great spots? Everyone has a "honey hole" or "holy water" that they have great sucess with. I don't want you to give up your favorite secret fly fishing spot, but any river suggestions would be helpful for the beginners. Please take the time to fill out the form below to tell others about places you like to fish.


This is also a great place to leave your special fly fishing techniques and tips, or fly fishing secrets that you learned that you want to pass on. This website is designed to help beginners as well as anglers with some experience, so your advice and tips are always welcome.
Like many of you, fly fishing is a hobby for me and not my job....wouldn't be a bad job though would it? I don't know every thing, and I am always looking for tips as well as new places to fish, even though I could be pretty happy never leaving the Owyhee.
Years ago I had no clue how to fly fish. A great day was a couple of 8"-10" fish. The more I talked about fly fishing the better I got. I found that other fishermen enjoyed teaching me tactics and techniques and it has made me better. Now I am disappointed if I don't catch at least (8) 18" or greater fish. One friend helped me by telling me a great place to fish, and another friend helped me when he taught me the double dropper system. I have had more help then that, but those were big. Things change when people help!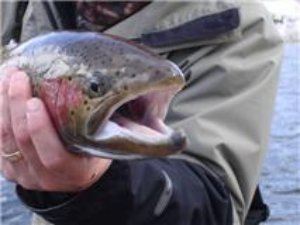 This is a great looking Steelhead.
Do you have any pictures of fish like this, or any great stories about fishing. Take time to share your fish photos and fish stories and they will be displayed randomly through the website.

Do you want to get paid for your comments? Be a website contributor and get paid for talking about fishing.



Where do you like to fish?
Do you have some places favorite places to fish? Please share it!
What Other Visitors Have Said
Click below to see contributions from other visitors to this page...

I fished with Arnold Schwarzenegger

About 12 years ago, just after I learned how to fly fish I went to the Sun Valley, Idaho to go camping and fishing. I was still brand new to the sport …
When you are finished leaving your viewer comments click here to return to the home page.