FLY FISHING MONTANA
Fly-fishing Montana offers so many opportunities and that is why it is one of the premier fly-fishing destinations in the world. These cold mountain streams like Yellowstone, Gallatin, Rock Creek and Madison River's surrounded by beautiful mountains and forests are unmatched.

Be sure to bring your fly-fishing equipment, your best skills and a camera. The western part of the state has some of the best views from rivers and streams you will ever see, not to mention the wildlife.
There are so many fly-fishing options it is hard to pick out the best. There is great fishing for the beginner like the Gallatin River and for the experts like the Yellowstone River. This state is a fly-fisherman's paradise.
There are lots of short creeks and streams that offer huge fish that are not as widely known as rivers like the Missouri or the Madison. If you are a serious angler you should plan a 2-week trip to Montana and see some of the many fly-fishing opportunities that await you. There are many fly-fishing guides throughout the state to chose from that will help you have a great day on the water. Fish on!

YELLOWSTONE RIVER
The Yellowstone River is the longest river in Montana. As the Yellowstone River leaves the park it flows through the town of Gardiner and enters Paradise Valley. This is where fly fisherman come from all over the world to test their skills. This is also the most scenic area of the river.
Is this really the best fly fishing stream in Montana?

Yellowstone River

MISSOURI RIVER
The Missouri River begins in the town of Three Forks, which is where the Gallatin River, the Jefferson River and the Madison River come together. The river will go through several dams and river section before it finally emerges into a great trout stream just below Holter Dam.

Missouri River


MADISON RIVER
The Madison River is divided into two areas, the Upper Madison and the Lower Madison. Both area's are some of the best fly-fishing Montana has to offer.
Madison River

GALLATIN RIVER
The stretch of the Gallatin River that runs from Gallatin Lake to Yellowstone Park is perfect for the beginner. This stretch has great wading access, it is shallow and it has numerous fish.

Gallatin River

ROCK CREEK
Rock Creek is one of the best fly-fishing streams in the state. From where the East Fork and West Fork of Rock Creek come together the creek flows for about 30-miles through the Lolo National Forrest in western Montana.

Rock Creek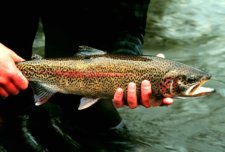 ARMSTRONG SPRING CREEK
Armstrong Spring Creek is a destination for fisherman all over the world. Located about 50 miles north of Yellowstone National Park in an area called Paradise Valley, you find yourself surrounded by beautiful Montana scenery. This creek is fishable year long because of the consistently warm water.
Armstrong Spring Creek is a little over 1 mile long but it is loaded with trophy Trout. Most of the trout are Rainbows, but there are a nice supply of Browns and Cutthroats as well. An average Rainbow will be about 14" but there are many exceeding 20" in length. You will need to bring your best presentation skills as the waters are clear and the fish are smart.
Armstrong Spring Creek is a traditional trout stream with great riffles, runs and pools. There are great hatches of Blue Winged Olives, Pale Morning Duns and Midges that make this creek a dry fly-fisherman's paradise. Hopper and Beetle patterns work well in mid summer.

Armstrong Spring Creek

Great Fly Fishing Guides available.

OTHER AREAS TO FISH
BOULDER RIVER
STILLWATER RIVER
DEPUY SPRING CREEK
WILLOW CREEK
NELSONS SPRING CREEK
BURNS LAKE
BIGHORN RIVER
MILL CREEK
BIG HOLE RIVER



Montana Fishing Regulations

Montana is a great place to fly fish. Click here to choose another state.