FLY FISHING TEXAS
Texas is a great place to fly fish because it offers both salt water and fresh water fly fishing. There is great fresh water fishing on the Lampasas River and Guadalupe River to name a few. The salt-water fishing is available along the coastal flats of the state.

The best time to fish the state is when it is cooler, during the winter months. This is a great break for all those living in the north, a chance to escape the cold for a warmer climate.
There is a lot to offer the average fly fishermen and the experts. Wading out to the coastal flats and hooking into the nice size Redfish can be quite exciting. Be sure to check out the local fishing regulations.

LLANO RIVER
The South Fork and North Fork of the Llano River near the town of Junction provides the angler with many types of fish. From fly-fishing for trout, bass, perch or sunfish there is plenty of types to go after.

The Llano River

LAMPASAS RIVER
The Lampasas River near the town that bears the same near Stillhouse Hollow Lake. The river has many smaller streams feeding it, and there are plenty of shallow runs and nice pools. The Lampasas River is a local favorite and it offers up some nice fishing.

The Lampasas.

GUADALUPE RIVER
The Guadalupe River located near the town of Hunt has some of the best fly-fishing in the state. There are two forks for this river that start at Hunt. The North Fork is west and the South Fork is Southwest. This is listed on America's top 100 streams to fish.

The Guadalupe River, one of the top 100 fishing streams in America.

Tell us about your favorite place to fly fish!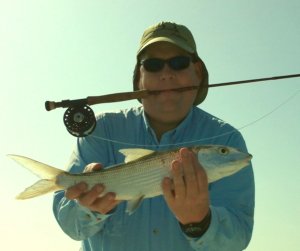 SALT-WATER ON THE COASTAL FLATS
Texas is also known for its great fly-fishing along the coastal flats. Fly-fishing for Redfish and Speckled trout can be enjoyed and is very exciting. There are great places along the coast to fly fish in areas like Rockport, Corpus Christi and Redfish Bay.
Texas coastal flats.

OTHER AREAS TO FISH
BLANCO RIVER
SAN GABRIEL RIVER
PEDERNALES RIVER
BRADY CREEK
MEDINA RIVER


Fishing regulations and license info website.

Texas is a great page to fly fish, click here to choose another state.