BEGINNER FLY FISHING
The beginner fly fisherman has a lot of stuff to figure out before ever catching the first fish. But once you catch your first fish with a fly rod you will be hooked for life. This is an active sport. You are continually fly casting or wading, and always searching for the fish and what to feed them. It isn't about putting a worm on a hook and waiting for a strike. How to fly fish is about out smarting the smartest of fish.

Assuming you have all of the necessary equipment and you know where to fish all that is left to have a great experience is to know how to fly fish. So how do you go about that? You can break the how to fly fish into several categories.
If you know others who fly fish be sure to ask lots of quetions about how, when and where. Learning from others is faster then learning on your own.

Are you just starting fly-fishing? Are you looking for help on how much to spend on each fishing item? If so, then take a look at this fly fishing budget which will help you determine how much to spend on each item with 6 different budget scenarios.

FLY FISHING A STREAM OR RIVER
Find out where the fish are going to be in a stream by understanding their survival needs. When you know what a fish needs you can use this information against the fish and increase your odds of catching some.

FLY FISHING A LAKE OR POND
Fishing a pond or lake is much different then fishing a stream, but the fish still have the same needs for survival. Increase your odds with this information.

WADING AND BANK FISHING
Should you fish from the banks of streams, rivers and ponds or should you wade. Both methods can bring you good results, but which method sounds best to you.

MATCHING THE HATCH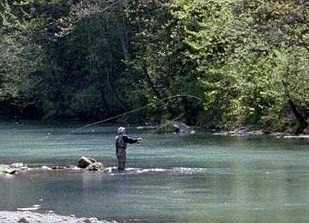 Now that you found where the fish are hiding out what should you use to catch them. Identifying the insects that the fish are eating allows you an advantage to use against the fish. Give them what they want.

FLY CASTING
Learning to cast is a necessary skill that will take some practice. You can learn this skill from reading, watching or by having someone show you how.

FISH ON – NOW WHAT
I like to yell out, "fish on" when I hook into a fish. Every beginner fly fisherman will eventually get to yell out those very same words at some point. But what do you do when you catch one?



Fly Fishing made easy, shorten the learning curve If you want to learn how to fly fish quickly Click Here!

Leave fly fishing for beginners page and return to home page.


Here is a website that has other fishing related items you may find of interest. Fishing Directory