DEEP CREEK
The Deep Creek is another very popular fly fishing destination in Alaska. People come to the various rivers from all over the world to catch the large Salmon that run these rivers each year. The Fly fishing can be amazing during these runs, and the season is short so you need to plan your trip early while fly-fishing guides and lodges are still available.


There are many Alaskan fly fishing guides, fishing charters, and fly fishing lodges available to choose from. Salmon fly fishing a very popular sport in the state, and many people travel to the many salmon filled streams every year. If you have never fly fished for salmon you do not know what you are missing. Why not give a fly fishing vacation a try?
Located on the Kenai Peninsula, Deep Creek is another great fly fishing destination in Alaska and it is near the city of Ninilchik. With the crystal clear glacier filled waters, and the gravel bottom riverbeds, this river gives the returning Salmon and local Trout what they need. Combine these features with the easy bank access to the river and you will soon know why it is the favorite stream on the Kenai Penninsula.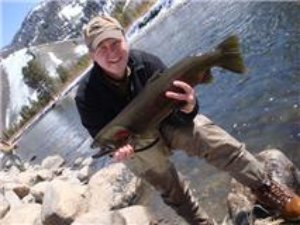 King Salmon are what brings people to the river, but don't over look the great Silver runs or the Dolly Varden. The Steelhead fly-fishing on this creek are just as great, but not as well known as Anchor River. The Kings arrive in late May and peak in mid June. The fishing on this river get pretty crowded and it is not just for fly fishermen.
The Dolly Varden return in July and you will find them into the fall. Pink Salmon show up just after the Dollies and both of these are exciting to catch with a fly, especially using lighter gear. In the fall the Steelhead show up and provide some late season fishing that is well known throughout the region.

This is a great fishing river. It doesn't matter if you want to fly fish for Steelhead, or fish for Salmon this is a great river. You can also launch a boat into the Cook Inlet for Halibut to complete your journey. When you are considering fishing options in Alaska, you might as well put this river towards the top of your list.
There are many fly-fishing guides available throughout the state, and they are familiar with many of the rivers. This is what they do for a living and most of them are quite good at their job. They will get you to where the fish are, provide equipment and teach you how to fish form these massive Salmon.

View Larger Map


Leave the Deep Creek page and look at other Alaska rivers.