DESCHUTES RIVER
The Deschutes River is joined by Metolious River and Crooked River, both good fly-fishing streams on their own at Lake Billy Chinook where it becomes the Lower Deschutes near Madras Oregon.
The Upper Deschutes which flows from Little Lava lake through both Crane Prarie and Wickiup Reservoir. This section is not as well known as the lower section but it does hold some very large Brown and Rainbow trout.


Between the Upper and Middle section of the river, which is near Bend, the river drops considerably. The water can be quite swift and difficult to fish, but this section holds fish as well as rafters hitting the white water.
The Lower Deschutes begins when it leaves Lake Billy Chinook and this section is widely known for the large population of wild Rainbow Trout, many of them exceeding 20" in length. These Rainbows are quite strong and will put on a magnificent acrobatic display as they try to avoid your net.
The Lower Deschutes is open yearlong. The Stonefly hatch in late May is well known in this area, as the Stoneflies and Salmon flies are everywhere. All you need to do is present a nice imitation along the banks or below the trees and get ready to set your hook.
July and August on the river have a great Caddis hatch which is one of the most famous hatches through out the fly-fishing world. This brings anglers from all over to fish this section of the river. This is a great time to fly fish with dry flies as the hatch can last all day long in spots. There is always something happening through out the year.
As for Steelhead, you will find Steelhead on the Deshutes from July through March, with great fly-fishing usually occurring in October. The Steelhead fishing can be amazing. The fish are big and strong and will require a heavier fly rod set up. Fishing the deeper waters can bring out the monsters that this river is full of.
When you put great Trout fishing and great river Steelhead fishing together on the same stream you really have something special. This is why this river is a regional and national favorite.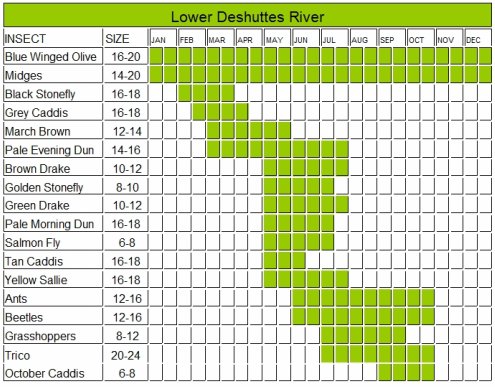 map of the Deschutes


Leave the Deschutes River page and return to Oregon page.