GALLATIN RIVER
The stretch of the Gallatin River that runs from Gallatin Lake to Yellowstone Park is perfect for the beginner. This stretch has great wading access, it is shallow and it has numerous fish. The fish in this stretch of river are not too big, but it does give the beginner a chance to get better before tackling the monsters.
The Gallatin runs for 115 miles from the headwaters in Yellowstone National Park to the Missouri River. There are numerous great places to fly fish and the views are amazing.
Another great place to access this river is West of Bozeman as the river travels along side hwy 191. The river runs along side the Highway from West Yellowston to Three Forks. The river becomes very wader friendly when the flows drop in the summer. The 30 mile stretch from where Fan Creek, Divide Creek and Bacon Rind Creek join the river has numerous fish, none of them great size but they are plentiful.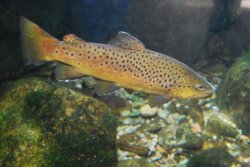 Although the fish throughout the river are not huge the river does get quite busy. This is a classic trout stream with riffles and pools and you will find the fish exactly where you would expect to find them.
You will find Cutthroat, Cut bows, Rainbows and Browns throughout the stream. This river is perfect for beginners because there are varied types of fishing conditions and it offers great dry fly and nymph fishing.
The Canyon section can be difficult to fish or wade in and it isn't the best fishing. This area starts around milepost 49 and runs for about 15 miles. Some of the best fishing is about 6 miles from the Gallatin Gateway. This area is flatter and holds some bigger fish.
The Gallatin is a very popular fly fishing stream. Since it is located near Bozeman and Yellowstone you will find plenty of lodging, fly shops and fly fishing guides available for you and your group. This is a great mountain stream!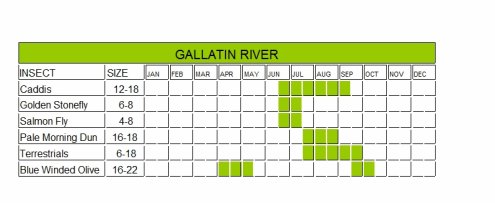 Here is a Google map of the Gallatin area.

Leave Gallatin River page and return to Montana.

Montana Fishing Regulations