GILA RIVER FLY FISHING
The Gila River, near Silver City New Mexico is what wilderness fishing is all about. This river is in the middle of nowhere so there usually is not much traffic. The fish are average size with an occasional whopper over 15", but there are lots of them. There are many streams in this area that feed the Gila, and it gives an angler a lot of opportunity to catch many fish.

The Gila starts as 3 different forks (east, middle and west) and becomes the Gila around the Cliff Dwellings. The upper portion of the river is where you will find mostly trout, and the lower portion you will find the Small mouth bass and catfish.
The river flows southwest to the Gila National Forest and Gila Cliff Dwellings National Monument, then continues west into Arizona. One way to access this river for easy access is to follow NM 15 from Silver City to the confluence of East Fork, towards the Gila Cliff Dwellings.
This river is home to Brown and Rainbow's. This is also home to a Gila – Rainbow hybrid as well as Small mouth bass. The Gila trout can only be found in these waters, it is dark olive green on the back with a golden yellow belly and small black spots. The other waters that this fish is found in include; Iron Creek, Black Canyon Creek and Mogollon Creek.
There is also some Channel and Flathead Catfish found throughout the many streams and manmade lakes. It is the Gila Trout and the Small mouth Bass that get most of the attention.
Some of the hatches include Blue Winged Olives (Apr – Nov), Pale Morning Dun (Apr – mid Oct), Terrestrials (Jul – Sep), Red Quill, Trico and Caddis (mid Jul – mid Sep), and Yellow Stonefly (Jun – Aug).
There are some great rivers to fly fish in New Mexico and this is a great fly fishing destination. Come check it out!

Gila River Fishing Report


View Larger Map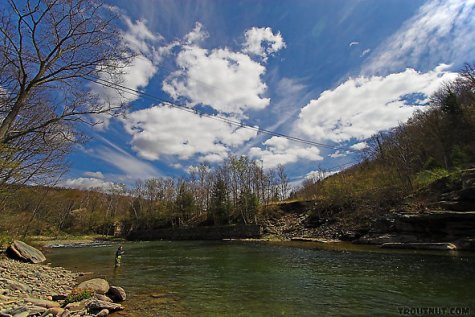 Leave the Gila River page and go to New Mexico page.

New Mexico Fishing Regulations