KENAI RIVER
The Kenai River is another very popular fly fishing destination in Alaska. People come to the various rivers from all over the world to catch the large Salmon that run these rivers each year. The Fly fishing can be amazing during these runs, and the season is short so you need to plan your trip early while guides are still available and the lodges still have accommodations available.


There are many Alaskan fly-fishing guides, charters and lodges available to choose from. Salmon fly fishing a very popular sport in the state, and many people travel to the many salmon filled streams every year. If you have never fly fished for salmon you do not know what you are missing. Why not give a fly fishing vacation a try?
There are many guides available throughout the state, and they are familiar with many of the rivers. This is what they do for a living and most of them are quite good at their job. They will get you to where the fish are, provide equipment and teach you how to fish form these massive Salmon.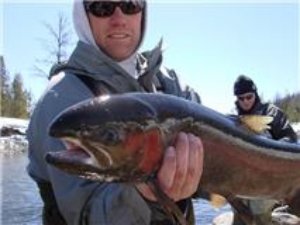 The Kenai River is considered by some to be the most famous fishing river for King Salmon in the world. The lower portion of the river is fished mostly for the King Salmon while the fly fishing is typically focus on the Upper Kenai, the area near Kenai Lake and Skilak Lake. An average Rainbow trout pulled from this section will usually top 5 pounds, and if you are lucky you can double or triple that size.
The most popular stretch for Salmon fishing is where the Kenai joins the Russian River, which is where many Sockeye return to spawn. Expect combat fishing in this section when the Salmon are running as there is easy access to this spot from the Russian River Ferry and the Russian River Campground.
The Sockeye arrive in large quantities in June and are around through August. There have been runs over a million during the best runs on record. The Silvers arrive in August and are available into the winter.
There is great boat access at Sportsman Landing. This stretch of water through Jims Landing is loaded with great fish. This is great spawning area which provides mealafter meal for the large trout that feed here.


View Larger Map


Go from the Kenai River to the Alaska page.

Alaska Fishing Regulations