MUSKEGON RIVER
The Muskegon River begins near Houghton Lake and ends up flowing into the east side of Lake Michigan after going through a series of three dams. Like so many rivers in Michigan, the Muskegon is well know for its great Steelhead runs.
It is the 2nd largest river in the state and has a variety of fish, something for everyone. You will find Bass, Pike, Trout and Walleye as well as runs of Steelhead and Salmon throughout the river in the sections you would expect to find each species. The Muskegon has some great summer hatches with numerous food available for some of these football shaped trout.
The river below Croton Dam is what people are talking about when they discuss fishing this river. This section of water holds some good size fish because of the food source and the cold water that feeds this section. The section between Croton Dam and Newaygo is the most popular section. The river is very wide, near 300' across, so it is best fished by using a boat.

The Steelhead runs on this river are from October to May, and they are pretty amazing at their peak. Steelhead are great to fish for because they have great size and put up a considerable fight. These Steelhead will eat about anything you throw in their view, which makes for a worth while trip.
If you have not fly fished for these large fish you should be sure to check with a local fly shop for some advice and a great selection of flies that work. The Chinook Salmon enter the river in August and hang around through October.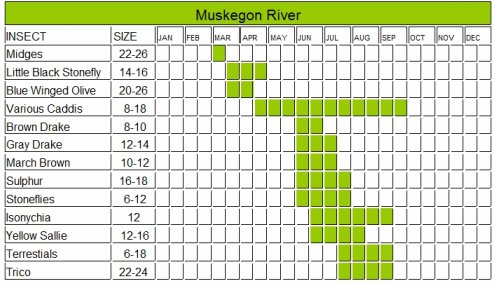 This is a link to a google map of the river area.

Leave the Muskegon River and return to Michigan home page.

Michigan Fishing Regulations