OTTER CREEK FLY FISHING
Otter Creek, located in Vermont is another of the great fishing streams in the state. The river begins near Rutland and eventually empties into Lake Champlain near Vergennes. The river has many types of fish including Small mouth Bass, Pike, Steelhead, Brown Trout and Gar to name a few. Since this is mostly warm water the trout are not as plentiful, but there are some nice ones to be had especially near the tributaries.


This is a year round fishery and is highly sought after during in the winter from all over the Northeast. Many anglers will use a canoe or kayak to get around this river because it is known to have many logjams in areas, which makes it difficult at times to navigate the river. There are still some great places to wade, and it is very popular also.
There are some nice trout to be found in the tributaries of this river. If it is trout you seek you may want to try the New Haven River, Middlebury River, and Furnace Brook that feed into the Otter. Fishing should be best near where these streams enter Otter Creek, but you will find nice action in most parts of these streams but access at times can be difficult.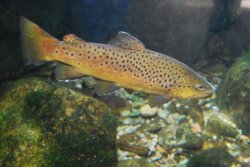 Streamers and nymphs work well below the surface. The smallies and Pike are known to take some dry flies. Look for the Pike to be hanging out around the edges of the river, in the flooded areas in early spring.
As far as insects some of the best flies to use would be sulfurs, hairs ears and woolly buggers. The river has a few known hatches, which include March Browns and Hendrickson's, so having imitations of those flies is a good call! Other flies to try would be hoppers during the season, caddis and stoneflies.
This is a great fly-fishing stream because it offers so much variety of fish, so it always "something season". This is not known for great big fish, but it is known as a good fishing location.


View Larger Map



Leave Otter Creek and go to Vermont page.

Vermont Fishing Regulations