PLEASANT RIVER
Pleasant River is a great trout stream that is not to far from Portland, it is near North Windham Maine. There is great access to this trout stream at Windham Center Road, Cook Road and Pope Road along with where Highway 302 crosses the stream. The area between Highway 302 Bridge downstream to River Road Bridge is catch and realease, fly fishing only.

The river is a very typical trout stream with its nice riffles, flat runs and great pools. The river is easily waded and has nice Brown trout and Brook trout throughout the stream. The best time to fish this River is early in the season just after it has been stocked.
In the summer the fishing conditions will not be very good once the planters have been taken. Because of how close it is to Portland the river gets a lot of fishing pressure.
This is a very convenient place to fish but not the best the state has to offer. Convenience doesn't always mean great fishing, but if you are like me sometimes you just need to go fishing and you don't have time to go to far. That is what makes the Pleasant an easy choice for the local anglers. The fishing season is only from April 1 through October 31, be sure to check the regulations.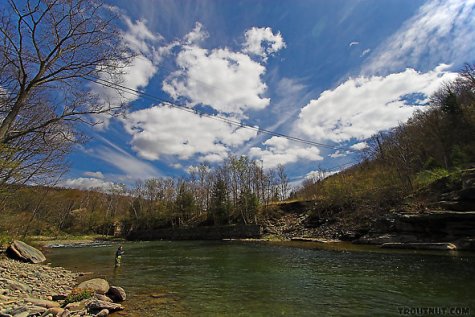 Some of the insects you will find on this river are Blue Winged Olives, Light Cahills and Caddis. This is not the best fly fishing in the state of Maine, but since it is so close to Portland I thought I would mention it for you traveling to the state for business.



Maine Fishing Regulations

Map of the Pleasant area.

Return to Maine page and leave the Pleasant River page.