ROCK CREEK
Rock Creek is one of the best fly-fishing streams in Montana. From where the East Fork and West Fork of the Creek come together near Phillipsburg, the creek flows for about 30-miles through the Lolo National Forrest.


There is great access to this creek along the road that follows the creek its entire length. Just pull off where you have an opportunity and head for the stream. There is also good access from routes 32 and 90. This stream does get some rafts and drift boats through June 30, they are not allowed after that. Fly-fishermen can really spread out on this creek allowing them plenty of water to call their own. This also eliminates the guided float trips that is common in other streams in the state.
This stream has fast flowing waters, lots of riffles, some slow moving pools and anything else you would find on a classic trout stream. You will find Browns, Rainbow, Cutthroat, Brook and Bull Trout many of which could spool you out as the fish use the river to their advantage.
If you are the type of fly fisherman that likes to wade and move around from hole to hole then this is where you need to be. Because of the access to the river for nearly 30 miles, and the restrictions on the boats, this river is perfect for the wading fisherman.
Cutthroat are predominant near the headwaters to Hogback Creek. This water is a bit slower. After Hogback and all the way to Henry's Flat the river picks up speed and the fishing is pretty solid.
The hatches include Caddis, Mayflies, and Stoneflies. Blue Winged Olives, Pale Morning Duns, Green Drakes to name a few are very successful. There is also an amazing Salmon fly hatch in May and June producing some of the bigger fish of the year. Don't forget to bring your Streamers or Nymph's, as they will work as well.
Every year the Rock Creek Lodge has a testical festival in August near the town of Clinton. This brings in about 15,000 people each year, some may fish some may not. In 2011, it will be held August 3rd - 7th. These are Rocky Mountain Oysters, bull balls for short!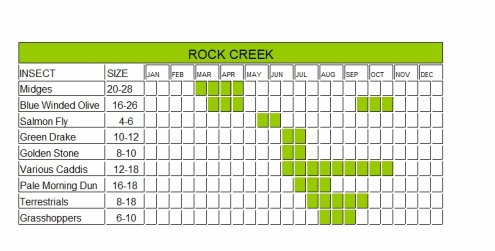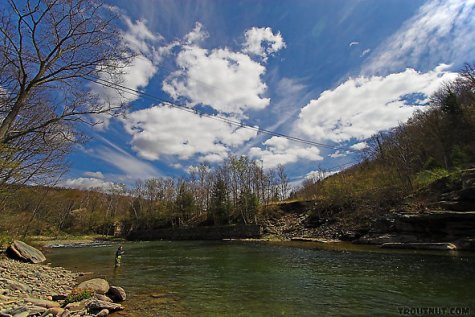 Leave Rock Creek and return to Montana page

Montana Fishing Regulations