SAN JUAN RIVER FLY FISHING
The San Juan River is located in the Northwestern part of New Mexico. This water is known the world over as one of the best fly-fishing rivers in America. The most popular and productive stretch of this river is from the Navajo Dam downstream approximately 3 miles to the HWY 173 Bridge. There are special regulations for this stretch of water so be sure to read the regulations. This river is over 100 feet wide in most spots.

There are nice size trout beyond the first 3 miles but there is limited public access so the best bet would be a drift boat. The water is consistently near 44 degrees, which makes this great year round and especially during the winter months. Because of this water temperature the insects thrive throughout the year, which provide a great source for food for the nice fish in this river.
There is a great supply of trout in this river and the flows are pretty constant, at least not subject to a great change in water level. There are some nice holes to seek out that are in the upper and lower flat areas. The river is a classic trout stream with the nice runs, great riffles, and the great holes. You will find a great supply of fish also in some of the slack water outside the riffles. You will find the fish everywhere and especially where you expect to find them.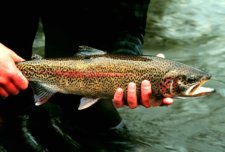 There are some great Blue Winged Olives hatches in March and April, and then once again in the fall months of September and October. Caddis are present in May and June followed by Pale Morning Duns that hatch through September. Midges are a sure fire bet year long and of course you would find the normal terrestrials you would expect to find near the banks or near the trees.
Because of the constant pressure on this water you will need to make sure you have great presentation and a nice selection of flies. These fish have seen it all, so be prepared and be skilled.


View Larger Map


Leave the San Juan River and return to New Mexico page.

New Mexico Fishing Regulations