SOUTH CAROLINA COAST FLY FISHING
The South Carolina Coast offers up some great fly-fishing and light tackle fishing. Some of the better areas to fly fish this coastline is around Charleston, Georgetown and Myrtle Beach to name just a few. These coastal flats are a very popular fly-fishing year round destination. There are many fishing guides and day charters available if you want to go that route.

One of the most popular areas along the coast to fly fish is near the town of McClellanville, which is between Charleston and Myrtle Beach. Here you will find the Cape Romain Wildlife Refuge that boasts some of the best coastal fishing in the southeast. There are some very large Redfish in these shallow waters. The shallow water holding these nice fish seems to go on forever.
These waters are typically fished from a skiff and the water is very shallow. Most of this type of fishing is site fishing. When you see the tail of the Redfish penetrate the water as it feeds in the sand you then know where they are. The Redfish will change location throughout the day as the tides dictate, so knowing what the tides will do is very important for this type of fishing.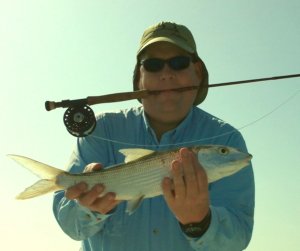 During the summer months the bigger fish hit the shore looking for food. You will find Tarpon, Cobia and Jack Crevalle hunting the inlets and bays looking for food. The coastal flats offer up some great fishing. You have the beauty of the salt-water sport accompanied with some great fishing into the inlets where the salt water mixes with the river system.
These coastal flats of South Carolina are a very popular fishing destination with the fly or with tackle. The fishing guides and charters can get booked up pretty quickly so if you are thinking about a trip to these waters you should pick a date and book it now.


View Larger Map



Leave South Carolina Coast and return to South Carolina page

South Carolina Fishing Regulations