TENNESSEE FLY FISHING
The Tennessee page is still under construction. I continue to add information daily so please check back later. I depend on input from the viewers of this website to provide me with information regarding the best fly fishing streams in your state. If you have some information that you would like to share with me please go to the fill out the form below and submit the information. Your help is greatly appreciated.


I will add information similar to the other pages as soon as I am able. In the mean time take a look at some of the other great fly fishing places in your region of the country.
Out of the 50 states, name ranks 26 as far as the most searched states to fly fish. Take a look at the google map below of one of the rivers listed.

Here are some well known fly fishing rivers in the state.
Clinch River
South Holston River
Hiwassee River
Watauga River
Little River


View Larger Map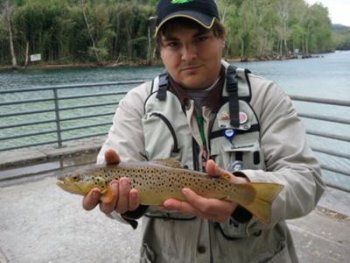 Nice Brown taken on the Clinch River!




Leave the Tennessee page and go to where to fish page.


Fly Fishing for Beginner's page.