WHITEWATER RIVER FLY FISHING
The Whitewater River is a freestone river that begins in North Carolina near Cashiers before tumbling into South Carolina. The river eventually drops into Lake Jocassee. Because this river is tucked away and hidden in some of the more primative areas of both states, this river is surrounded by great scenery including two waterfalls that each have over a 400' drop. You need to pay close attention to the river since there are many water falls and many kayakers.


The access to this great trout stream is limited. There are no trails that lead from Lake Jocassee up the river so you will need to wade up the river. Most of the river is located in North Carolina except for the lower few miles before dumping into the lake. This section of river is known for its great Brown Trout fishing. There are deep pools along with nice riffles and runs making it a classic trout stream.
There is some good access to the river from State Route 281 in North Carolina where it crosses the river. You can access the river via a small trail that gets you there. Make sure you check both the North Carolina and South Carolina fishing regulations for this stream if you plan on being in both stretches of river, and make sure you have a fishing license for both.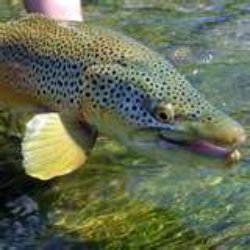 The best time to fish the Whitewater is during the summer. Some flies to use would be Yellow Stoneflies and Light Cahills. Streamers, midges and nymphs will also net you a few fish. Black ants and grass hoppers while both are in season will get you a few fish under the trees and along the banks. Fall and winter has some decent fishing as well, but the spring is a little more difficult because of water flows.
Whether you are in South Carolina or North Carolina you will find some nice fishing on this river. You just have to work a little harder to get there!


View Larger Map



Leave Whitewater River page and return to South Carolina page.