YAKUTAT BAY
The Yakutat Bay is another very popular fly fishing destination in Alaska. People come to the various rivers from all over the world to catch the large Salmon that run these rivers each year. The Fly fishing can be amazing during these runs, and the season is short so you need to plan your trip early while guides are still available and the lodges still have accommodations available.
There are many fly-fishing guides, charters and lodges available throughout the state, and they are familiar with many of the rivers. This is what they do for a living and most of them are quite good at their job. They will get you to where the fish are, provide equipment and teach you how to fish form these massive Salmon.
This is a premier fishing destination in Alaska, the city has its own airport which allows fly in fishing to many of the best rivers in the state. One of the best rivers, the Situk, is located near the airport and feeds into the bay. This river boasts the best Steelhead runs in the state. The only way to get to Yakutat is by ferry or plane.
If the fly-fishing isn't what you are after you will find great fishing for monster size Halibut. But mostly people come here for the Steelhead. This is a catch and release fishery which equals great size fish that average about 11 pounds. But you can double that size, and catch as many as 20 fish if the fishing gods are on your side.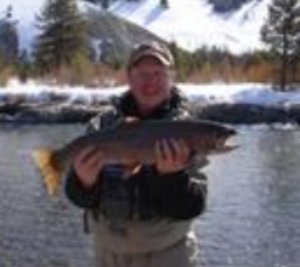 You can wade most of this river. Most of the pressure is in the final 6 miles of the river, but wiht a great fly-fishing guide with the right boat you should be able to get further up the river than most people and have a little space to call your own. The best months to fish are April and May, and even though this area gets a lot of rain the water remains pretty clear.
Through the conservation efforts and special harvest rules this river has become well known through out the world. It has the best Steelhead runs in Alaska and that is saying something.




View Larger Map




Leave Yakutat Bay and go to Alaska page.