YELLOWSTONE RIVER
The Yellowstone River is the longest river in Montana, originating in Yellowstone National Park and freely flowing to North Dakota. There is nearly 300 miles of good fishing on this river. The upper portion of the river, above Billings is classic trout water. Below Billings the water is warmer and the fishing in this section is for Catfish and Walleye and Sturgeon. There are numerous
fly-fishing guides available for all of the great fly-fishing in Montana.


ALERT oil spill near Laurel Montana - July 1, 2011
An oil pipeline buried beneath the river has been damaged and oil flowed for about an hour before it was shut off. The immediate 10 miles downstream will be greatly affected. Because of the high water flows this oil should also be pushed further downstream affecting many. I would not recommend fishing between Laurel and Huntley for several months once the water gets to a fishable level. This is a horrible event, but nature has its way of getting past these man made problems.
---
As a general rule, the Yellowstone is best fished from a boat. The river is very wide in spots and not very wadable as some of the upper section flows pretty quickly.
As the river leaves the park it flows through the town of Gardiner and enters Paradise Valley. This is where fly fisherman come from all over the world to test their skills. This is also the most scenic area of the river. This stream should be on any serious anglers short lists of places that they would like to fly fish.
As the river gets closer to Livingston you will find the most trout. These trout are native Cutthroat, Browns and Rainbows, but it is the native Cutthroat Trout seem to be on every anglers mind. The best access for the river is with a drift boat since the river ranges from 75' to 300' in most spots.
The river has the most pressure between Garner and Livingston. Fisherman come from all over the world to test their skills on this river and the pressure can be huge. If you want a little river for your own you should look below Livingston and Big Timber.
The river offers everything an angler would want in a stream. There are pools, riffles, runs, rapids and undercut banks. You will want to read through the fishing regulations for the river, as there are many areas with different rules. The river gets pretty muddy during the spring run off so the fishing is not as good during this time until the flows settle back down in June.
There are some amazing hatches and large terrestrial populations that keep the fish searching for food. There is a nice selection of Caddis, Stone Flies, Mayflies, Salmon flies and Midges allowing the angler to bring his entire fly assortment to the river. Be sure to use larger nymphs then you would normally, size 4-8, and try the deeper water near the banks.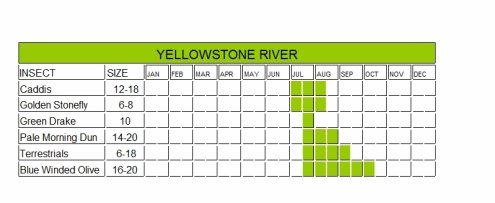 Map of the Yellowstone River area.


Montana Fishing Regulations

Montana page and listing of other MT rivers.