DAVIDSON RIVER
The Davidson River is located about ½ hour from Asheville. This river is well known and the catch and release section of the river is some of the best fly-fishing on the east coast. It is also one of the most heavily fished streams in the Southeast. Many of the summer days you will have difficulty finding a pull out to park in along HWY 276 which parallels the river for just over 4 miles. I guess that means the fishing must be great!


Because of the pressure on this great stream, the educated fish and extremely clear water fisherman have been known to leave this river without a catch. You will want to make sure you have a nice presentation to increase your odds. Some attractors work well on top and Copper Johns work well below the surface. In the upper section the nymphs will out produce the dry fly.
Much of the Davidson River has clear slow pools that require great presentation skills to land the Rainbow Trout. The area near the Pisgah Fish Hatchery gives you some easy access, but you will have to deal with some crowds.

There is good fishing either direction from the hatchery so if you want space you may need to take a walk. This section of river is not stocked, but the mile or so below the diversion dam has an abundance of fish. Smaller flies work better than larger flies so don't make that common mistake of too much fly. Horse Cove is a nice stretch of water, so make sure you try your luck there.
The lower section, about 1/2 mile below Horse Cove where Looking Glass Creek joins the Davidson offers more great fishing water. This is classic trout water with nice runs, riffles and pools. This is less crowded than some of the other areas.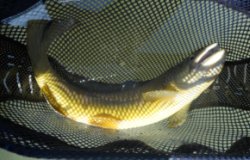 There are nice Midge hatches almost daily on this river giving the fly-fisherman opportunity to use dry flies. Griffith's gnats and small cream-colored midges work well on the surface. Bead Headed Hares Ears and Brassies work great when nymph fishing in some of the faster runs.
The Davidson is a great trout stream and it should be on your list of places to fish. The river requires great skill in places but it can be very productive. This river has great access, it is loaded with fish and is a must for the serious angler. To beat the crowds you may want to fish the winter and spring.

Davidson River Fishing Report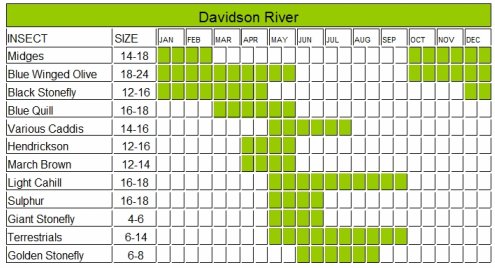 Leave the Davidson River and return to North Carolina page.