DESHKA RIVER
The Deshka River is another very popular fly fishing for salmon destination in Alaska. People come to fish Alaska on the various rivers from all over the world to catch the large Salmon that run these rivers each year. The Fly fishing for trout can also be amazing during these runs, and the season is short so you need to plan your trip early while guides are still available and the lodges still have accommodations available.


There are many Alaskan fly fishing guides, charters, and fishing lodges available to choose from. Salmon fly fishing a very popular sport in the state, and many people travel to the many salmon filled streams every year. If you have never fly fished for salmon you do not know what you are missing. Why not give it a try?
Some of the best fishing on the Deshka River is located North of Wasilla Alaska. Many of the guided trips begin around Willow, which is about 45 minutes from Wasilla and 90 minutes from Anchorage. The river begins above Kroto Creek and runs about 140 miles to the confluence with the Little Susitna River.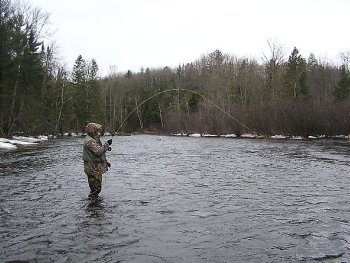 Fishing can be excellent on this river. You will find King Salmon, Pink Salmon, Sockeye Salmon, Silver Salmon and Chum Salmon on this river all returning at their predicted times beginning with the Kings in May and finishing in August with the Silver Salmon. You will also find Rainbow Trout and Arctic Grayling throughout the river. The Rainbow will be chasing the salmon to their favorite spawning grounds for easy meals.
The river begins as a slow river and picks up speed as it nears the Little Susitna River. The water in the Deshka is warmer then the Susitna so the salmon will hold in some of the deeper pools. The water depth averages from 2' – 8' in depth and can be difficult to navigate in spots.

Even though the Deshka is not the most well known river in Alaska, it certainly provides some great fishing. The salmon are known to take a fly on this clear river along with spoons and spinners. If you are interested in guided trips be sure to book your trip early because of the short fishing season.
There are many guides available throughout the state, and they are familiar with many of the rivers. This is what they do for a living and most of them are quite good at their job. They will get you to where the fish are, provide equipment and teach you how to fish form these massive Salmon.

View Larger Map


Leave the Deshka River and look at other Alaska rivers.

Here are a few other places in Alaska to fly fish.

Kenai River
Togiak River
Bristol Bay