METHOW RIVER
The Methow River starts in the Cascade Mountains and dumps into the Columbia River at Pateros. It passes through the towns of Twisp, Carlton and Methow during its short journey to the Pacific Ocean. It is near these three towns that draws the attention of the fly fisherman in the area.
The river is crystal clear, like so many in the Northwest. Because of the clarity you will need to have great presentation, and a stealth like approach to keep from spooking the fish. The rewards will be a nice size picture worthy trout or Steelhead.
The Methow is full of large Rainbow and Cutthroat Trout, many can be found over 18" in size. It is not a great dry fly fishing river, absent from any major hatches, but it will produce nice fish from down under using nymphs and streamers.

Photo courtesy of Troutnut.com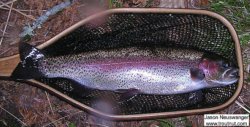 The trout season only runs from June through September so you got to get them while you can. The best trout fishing is between July and September. The river can be waded with several access points, or you can use a drift boat.
The Steelhead season is usually listed as closed but it will open up in October if the fish counts are at a high enough level. If it opens up you want to be sure to get to this river and test your skills. There are some nice rewards waiting to take your fly. Although this river has Cutt's and Bow's in it, the fish that bring everyone here are the Steelhead.

In addition to the main stretch of the river, there is great creek fishing on all the tributaries that merge into the Methow. Much of the Methow and its tributaries are wader friendly, but you will see your share of drift boats as well. There are plenty of local guides for this river to assist with your every need if you choose to go that route.

Here is a Google map or the Methow area.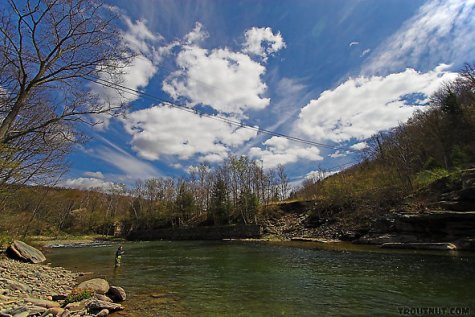 Leave Methow River page and return to Washington page.