YELLOWSTONE RIVER HATCH CHART
The use of the Yellowstone River hatch chart is very important when fly-fishing. If you understand what insects are present on a stream at a given time you will be better prepared. Fish are use to seeing certain insects in their stream at a certain time of the year. So if you know what is hatching you will know what type of fly fishing flies to use and that will increase your odds of catching fish.



Another thing to do instead of using these charts is to visit your local fly shop. The professionals that work these shops are very helpful and glad to provide you with information. They know what the hatch is, they know what flies to use, and they can tell you what time is best for fishing. All of this is great information, but if you get to know them well enough they may even share their secret fishing spots.
If you are using a guide they will know what flies you will need. Some guides provide the flies and some don't, be sure to find out what your guide provides. If he doesn't provide them you will still need to determine what size and kind to get.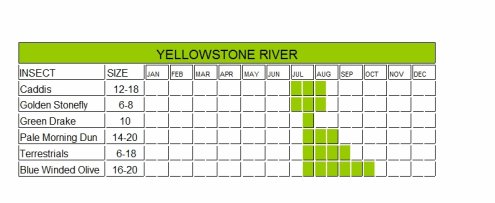 Read more about the Yellowstone River.

Leave the Yellowstone River hatch page and go to the Montana page.