Knowing What Flies to Use
Choosing the right flies to use is the most important part of fishing once you get to the stream. Knowing which pattern to use, and if you should use a dry, or a nymph, or a streamer is important before you begin casting. You need to match the hatch.
Having the right fly is very important. This is just one of the things you will need for fly fishing. You are also goin go need a fly rod fly reel fly line waders wading boots fishing vest, net and other gear. You are also going to need polarized sunglasses and apparel. My favorite place to buy flies is Premium fishing flies from 45 cents each. They have a great selection, quality flies at great prices and they ship it to me fast.

FLIES
There are many different patterns and they come in many different shapes, sizes, and colors. Some are designed to sink and some are designed to float. There is one thing that they are all designed for and that is too closely imitate an insect common to what is found in a body of water at its precise moment of its life cycle.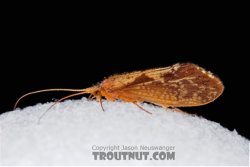 This is the 2nd most important thing to understand about fishing right behind finding the fish. Nothing will humble a fisherman more than being surrounded by fish that are eating and you can't catch them. It has happened to me on too many occasions. Being able to identify what the fish are eating is vital to your success.
Most rivers, streams, lakes and ponds will require a different type or size and pattern. It is important to know what types work best for where you are fishing. You can find that out by asking your local Fly Shop. They are familiar with the local fishing and can help you choose the proper patterns to use. You will not catch fish if you are using the wrong type. Patterns can be broken down into these basic groups.
WET is exactly that. It is meant to fish under the water surface and it imitates dead insects and insects that are emerging from the water surface.
NYMPHS resemble insects that look like they are coming out of their cocoon, or larval state.
DRY are those that imitate insects as they look in a natural setting floating or landing on the water surface.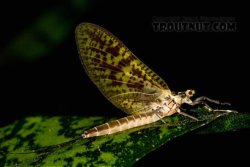 STREAMERS imitate smaller fish in the water that the bigger fish would feed on.
TERRESTRIALS can be used in wet or dry patterns. They are made to imitate an insect that may have mistakenly entered the water and can't get out. Examples would include grasshoppers or ants.
If you are like most fisherman you will begin your career with a dozen or less total imitations in about 4 or 5 patterns. One day you wake up and you have over 300-400 in about 50-100 different patterns. Many people will actually begin tying their own patterns since it is enjoyable to catch a fish on something you made yourself.
You can purchase from discount shops on-line for as little as .40 each. Or you can spend $2.00 or more for each from a local Fly Shop. There are two major differences. The first is quality. You almost always get what you pay for. The other big difference is experience, knowing what works.
THINGS TO CONSIDER WHEN PURCHASING
The guy at the local Fly Shop knows exactly what pattern and what size to use in his area. Would you rather catch 1 or 2 fish because you guessed right, or would you rather catch 10+ fish because you got some solid advice? The choice is yours.



You may consider purchasing some from each source. Purchase the common patterns like pheasant tails, midges and hairs ears at a discount on-line. But also purchase the local specific quality patters from a local expert. This will stretch the budget a little further and still provide you with the what is necessary to have a big fishing day.
Now that you have a nice supply you will need to have some way of carrying them. There are many choices of fly boxes, and you will probably have several of them at any given time. Take a look on-line or in your favorite Fly Shop to see what would work best for you.
Before you buy any you need to ask yourself how you want to carry them. Do you want to carry in your vest, hang on something around your neck, or have a pack around your waist or chest? You may want 2 or 3 of these options.


Recommendations about where to purchase
Cabela's Buyer's Guides is a complete on-line store that you can purchase any fishing supplies, apparel and things for the cabin. This assortment retails for $89.95. Click on the image and see what other flies and equipment are available. This is a great starter pack, but you may need not need all of these depending on where you fish.

Here is a link to the Big Fly Company, an on-line fly company that I like to use. Premium fishing flies from 45 cents each. The flies are good quality and they have fast shipping. I buy most of my flies, leaders and tippets from here, along with other small items and fly line.

Sierra Trading Post: Save 35-70% on Outdoor Gear and Apparel.
This is an on-line store that has some fishing equipment and apparel but there is limited selection. If you were on a limited budget this would be a good place to look.

Local fly shops listed on the fishing by state pages. This would be a great place to go to talk to someone face to face that is knowledgeable of the area and can make recommendations that would fit your budget.




Flies - Fishing Tactics

where to fish

Return to home page