BIG FLAT BROOK RIVER FLY FISHING
The Big Flat Brook is located in Northwest New Jersey and is considered to be one of the best fly-fishing rivers in the state. Many people who fly fish New York or fish in Pennsylvania will come here because it is such a great river. The river starts near Haneys Mill and travels about 28 miles in a Southwest direction and dumps into the Delaware River near Flatbrookville. There is plenty of good access from routes 615 and 640.


The Big Flat is pretty narrow in the upper stretch, typically 15-30 feet wide. Above route 206 the stream has good pocket water and small size pools. There are lots of trees along the banks and because of the narrowness of the river it makes casting a challenge.
There is a nice fly-fishing only section that is from the bridge at route 206 downstream 4 miles to Roy Bridge which is located on Mountain Road. The river is slightly wider here full of pools and nice riffles. From where the Little Flatbrook dumps into the river all the way to the Delaware River the fishing is quite good.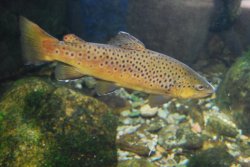 There is really good access to this river making it an obvious selection for the resident anglers. The upper section of the river flows through the Stokes National Forest. The lower section can be accessed pretty well from the many roads along the river. You will have to hike into the river at some of the upper stretches of this stream.
Because of the various water conditions on this river it hosts a nice assortment of insects for the fish to feed on. There is a good BWO hatch in the spring and the fall and good hatches of Caddis from spring through the fall. This river is stocked by the state of New Jersey with Rainbow trout and it is full of Native Brook and Brown's and any of the Rainbow trout that make it through the season.
If you are looking for one place to go for New Jersey trout fishing this is the river for you.

Big Flat Brook fishing report


Related Links



Map of the Big Flat area.

Leave the Big Flat Brook River page and return to New Jersey page.

Fly Fishing for Beginners