PEQUEST RIVER
The Pequest River is another great trout stream in Northwest New Jersey and it is well known for the abundant trout. There is a fish hatchery on the river that adds to the supply of fish. There are many fish to be found on this great stream that average 12" and better.

The crowds tend to gather near the hatchery between Great Meadows and Buttzville. Some of the best fishing is to be had around Vienna and Great Meadows, both are upstream of the hatchery. The largest population of fish are between Buttzville and Belvidere.
The river starts in the swamplands that are above route 80. The river then becomes a classisc stream that is very fishable. There is great access to the Pequest, as it becomes a river along Route 46.
The river has typical trout stream features with the trees along the banks, runs, pockets and pools. Perfect for every angler. Two great places to fish above the hatchery are Vienna and Great Meadows. Below Buttzville to Belvidere has the largest population of fish on the river.


Photo courtesy of Troutnut.com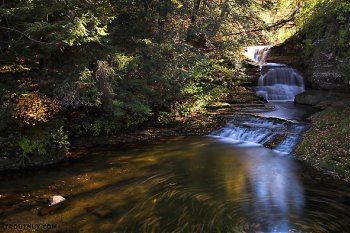 The hatches on the Pequest River are some of the best in the state. They have great Caddis and Stoneflies hatches throughout the year. Some flies you will want to use in the spring include the Blue Quill and Hendrickson. In the summer try some Sulphurs, Drake and Tricos.
This is a great stream with an abundant supply of fish, many with great size. The fishing is usually best in the spring time. The summer can be a little more difficult because of the water dropping which makes it more difficult to sneak up on these nice fish.
If you are looking for New Jersey trout fishing then the Pequest is your river.

Pequest River Fishing Report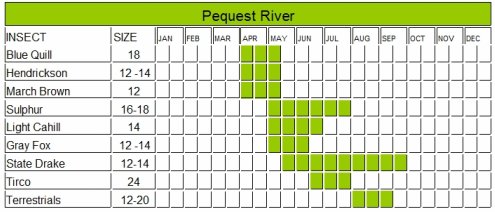 Google map of the Pequest area.

Leave this Pequest River page and return to the New Jersey page.