GREEN RIVER
The Green River starts just below Flaming Gorge Dam, and the first 7 miles below the dam is known throughout the world as a great trout stream, and one of many great Utah rivers. The river is full of Brown, Rainbow and Cutthroat trout. Because of the steep canyons the access is limited. You can get in just below the dam and at Little Hole and Browns Park. You can wade or drift this river but watch out for the summer rafters as this is a popular spot for them.


The river is full of large Brown trout averaging 17" or better. The river has a great food supply for these hungry fish. Scuds are highly favored throughout the year. Although not shown on the hatch chart below, midges make their arrival in the spring and winter just like the Blue Winged Olive. Terrestrials will show up as expected, during the hot summer months. (Picture from Troutnut.com)
When you start talking about great trout river fishing, and wanting to fish Utah or America, this river is always on the list. Located in the northeast corner of the state near the Colorado and Wyoming borders, people come from all over the area to test their skills. You need to add this to your list of places to fish in your lifetime.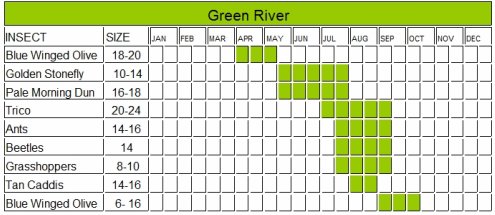 Map of river.

I have a good friend who fly fished the Green River this April with a guide. He sleighed them! They caught so many fish, over 40, most of them very good size. The guide showed him and his friends several sucessful techniques that neither of us had tried or heard of before. They worked! Just one more great reason to use an experienced guide on your fly fishing adventure.
This is a very good fly fishing stream, and you should make your way to Utah to try it out.

Leave Green River page and return to Utah page.