LOGAN RIVER
The Logan River has about 30 miles of fishable water alongside HWY 89 starting northeast of Logan Utah. This is one of the best trout streams in the country. There are three dams along this river that are stocked and provide great fishing for the beginner. There are also many stretches of water that will require more skill with your presentation. Above the first dam is all wild trout, which are Browns and Cutthroats.
The Caddis flies are very popular which include the Elk Hair Caddis. Blue Winged Olives and Midge patterns work well in the fall and winter even when it cools off. Your basic Pheasant Tail works well below the water surface almost always.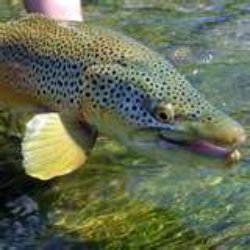 Because of the spring runoff you cannot fish the river until late June because the flows are raging. The best time to look for the big Brown's is in the fall and early winter when they come here to spawn. I sure would like to hook into a fish like this one. That brown has to be in the 35" range!
There is a great Mayfly hatch of Gray and Green Drakes that when it comes on is extremely amazing. The Brown Trout hang out mostly in the lower section of the stream and they take the dry fly pretty good. Attractors work well in the summer. The upper water contains some nice Cutthroats, but the water is pretty cold up around Red Banks campground area.
If you are from Utah you will understand the beauty of this nice river. If you have never been to Utah you should come take a look at this river, or the Green River. They both offer up some great fishing as well as some great outdoors experience.

Map of River area.



Do you have a favorite river that you like to fish? Maybe a great tactic or special fly that works every time? How about sharing that information with other viewers "pay it forward" by sharing your comments.

Fly-fishing Videos

Leave Logan River and return to Utah page.