McCLOUD RIVER
The McCloud River is located near the beautiful Lake Shasta. Lake Shasta flows into the McCloud, and with it brings massive Brown Trout especially during the spawning season. This river is know to have more large fish than any other stream in California.
Many rivers throughout America boast that they have McCloud River strain of trout. Well so does this river since it originated here. This specific strain dates back well over 100 years, and there is a reason they are so well known.


Word of caution. There is plenty of wildlife in this area that call this place home. They would include Mountain Lions, Bears and Rattle Snakes. Keep this in mind if you decide to fish here. You probably should not go alone, and you should have some type of defensive strategy.
When wading the river you will find yourself navigating around boulders and over rocks and you should consider a wading staff to fly fish this stream. The fish spend more time deep in the water than on top. You will have good luck with getting the nymph as deep as possible in the water.
The river is full of great runs, riffles and pools and has some tremendous hatches of Stoneflies, Caddis and Mayflies. Although there are many large Brown Trout, 8 lbs or more, there are still more Rainbow Trout in this catch and release stream. But lets face it, the chance to catch a very massive Brown Trout is what brings anglers to this stream. An 8 lb. Brown is a very nice size fish and it will give you a test.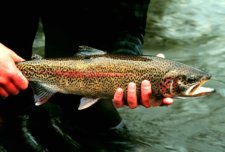 The fishing is great from the springtime through the fall. You can easily walk along the trails by the river picking and choosing your entry spots. This is a perfect river for those who like to move around like I do. Be sure to take special care during spawning season not to disturb their beds to insure the long term population of this stream.
You can access the Northern part of this great stream from the McCloud River Loop Road near the town of McCloud. Drive about 5 miles to Fowler Camp. The Southern part of this river can be accessed by going about 8 miles south from McCloud on Squaw Valley Road. If you head to Ash Camp and walk a few hundred yards you will find some amazing fishing.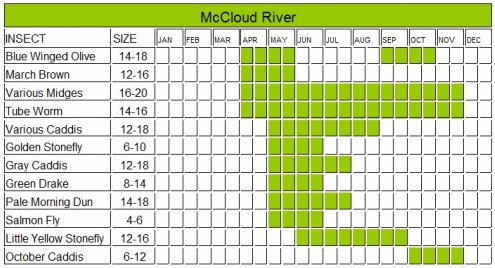 Map of the McCloud River.

California home page.