McKENZIE RIVER
The McKenzie River is one of the best trout rivers in Oregon. It is located near Eugene and is one of the most popular Oregon rivers. Although the river is open year round, March through October are typically the best months.


The best way to fish the lower McKenzie is with a drift boat. There are plenty of good access points to the river from the state parks along the river. The river above Bellinger is stocked with Rainbow Trout making this a great place for the beginner.
There are good hatches in March and April of March Brown Mayflies. A nice imitation can hook you some nice fish. The problem with some of the hatches is that they only last an hour or so. So be sure you nymph deep in the water when they are not rising to hook into the bigger fish on the bottom. There is better top water fishing from May through July, when the water levels and insect hatches become more consistent.
The McKenzie is home to many large Rainbow Trout, or "Redsides", like the locals call them. You will find many in the 14" to 16" range and some over 20". You are also going to see a nice population of Cutthroat Trout and a few Bull Trout mixed in from time to time. But this river also boasts some serious Steelhead fishing with many fish in the 6-9 pound range.

There is a nice March Brown Hatch along with Caddis and Stonefly hatches which provide excellent dry fly-fishing. Hares Ears and Pheasant Tails will do the trick below the surface.
The McKenzie has something for every fly-fisherman of every skill level and should not be missed. Be sure to check the fishing regulations to determine what you need to know. The section below Hayden Bridge is open year round but the fishing is conditional based on water clarity. Enjoy this river, it is another great stream in Oregon.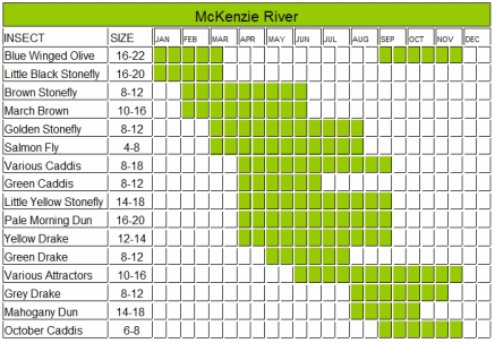 Map of the McKenzie area.

Leave the McKenzie River page and return to Oregon page.