AMELIA ISLAND
Amelia Island is near Jacksonville Florida, and it provides some of the very best fly-fishing for Redfish in the state. This area of Florida has great fly-fishing for Redfish. You must give it a try.
If this is your first trip to the area for fly fishing you may want to invest in a fly-fishing guide or fish charter. A guide with a boat will get you to the best spots in the area. Since they do this for a living they will do what they can to make sure everyone has great fishing adventures.

Once you are familiar with the area and know where some of the best fishing is you may want to go try some areas that you can easily wade. If you go to some of the shallow grassy waters you may just find some great fishing. While surveying the water you will need to keep an eye out for tails sticking out of the water, this will signal that the fish is feeding on the bottom.
Red Fish, Bonefish and other species that live in these waters will nose around the sea floor looking for food. When you see their tails up out of the water then you will want to cast to an area nearby. Many of these fish range from 6-12 pounds, which can be quite a thrill with a fly rod.
You will find some trout in these areas as well. Some will be hitting poppers on top of the water, especially in the summer months. When fishing for trout below the surface you will want to use a lot of weight so it drops to the bottom fast, and then work it back towards you.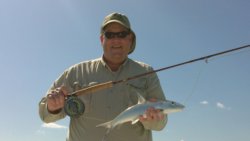 Fishing for Redfish is typically good in areas where the water is shallow. The fish need a food source and a place to spawn, but they still need to be safe from predators. Because the water is usually shallow you will want to have a stealth like approach so you do not scare the fish. Using water plugs while site fishing is one of the best techniques.
Understanding that the Redfish move with the tidal movements will allow you to catch fish during the time when the fishing is best. The best time to sight fish for these Redfish is during low tide and during daylight hours. Since the tides bring in food sources fishing just after the tide starts letting up can work out very well. Be sure to learn about the tidal movements of this area and take advantage of this predictable cycle. You can fish the area inside the shoreline as well as right at the shoreline.
When it comes to Amelia Island I would strongly suggest going with someone who knows where to fish and what to use. This could be a friend or a fly fishing guide or fish charter. If you are new to this kind of fishing you will realize soon that you need specific gear, and you need to be able to get to the fish. Knowing where the fish are is part 1, part 2 is having the right equipment, and part 3 is having the right tactics.



Here is a Map of the Island area.

Leave the Amelia Island page and return to Florida Home page.