ARKANSAS RIVER
The Arkansas River starts in the scenic towering Mountains and has a wonderful view of two of the tallest Mountains in Colorado, both topping 14,000'. Not only is this river known for its great fly-fishing, it is also one of the best rafting rivers in America. The river starts just east of the continental divide and flows towards Kansas.


Though this river is about 300 miles long and the most popular stretch of this river is between Buena Vistan and Cannon City. This section of the river is about 70 miles long and it is a classic trout stream with long riffles, pools and runs. It is loaded with Brown trout and some nice Rainbow as well.
The Arkansas is widely known for its Mother's Day Caddis hatch and it gets a lot of fishing pressure during that time. There is also a large Blue Wing Olive hatch that precedes the Mother's Day hatch that may be even more impressive. Either way, the Brown Trout are numerous and they are very active during these hatches. An average trout is going to run about 14" but there are many over 18" to be found. The water is perfect for trout because of the temperature and all the boulders and pockets.
There are many great access points along the river, but be sure to find some of the less than obvious spots on some of the side roads to find areas with reduced pressure. This river is easy to wade with access spots along Hwy 24. You may also want to float the section between Buena Vista and Salida through Brown's Canyon, which is along HWY 285. This area can be very technical so you may want to research a little more before launching your raft, or consider using a guide.
Just below the Pueblo Reservoir you will find another great stretch of river to fly fish. This section holds some nice size Browns.
Some of the best flies would include Caddis, Blue Wing Olive, midges and streamers. This is also a good location to use a dry fly with a nymph dropper, and even sometimes using a double dry fly set up.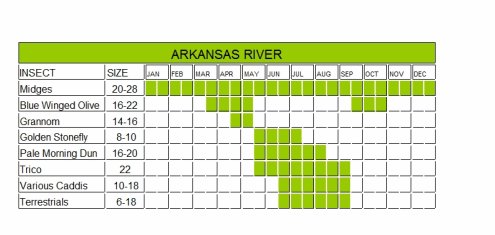 Arkansas River Fishing Report


View Larger Map
Leave the Arkansas River and return to Colorado page.