ROARING FORK RIVER
The Roaring Fork River is one of the free flowing rivers in colorado. It is 70 miles long from the headwaters at Independence Pass which is nearly 12,000 feet above sea level, to the Colorado River in Glenwood Springs. The fishing can be amazing with a dry fly in the upper section of the stream during the summer months as it wanders through the Roaring Fork Valley.


The Roaring Fork passes right through the beautiful town of Aspen Colorado. About 3 miles north of Aspen Colorado is where the private property starts so an angler on a fish trip must be aware enough not to trespass to gain access to the river.
The section between Aspen and Basalt is Wild Trout section with no stocking and catch and release regulations. This is a great stretch of river to fly fish. This is a wadable section and has great hatches.
The currents of this river can be quite strong, as the name suggests, and can be intimidating. The flows of this river determine how good the fishing can be. When the flows are good this can be one of the best fishing rivers in America full of strong Rainbow and Brown Trout.
The Roaring Fork is a great river to use a drift boat or raft especially below Basalt because of the flows and the private property along the river. Aspen Colorado is a very popular tourist area and it is easy to see why. It is because of the great winter skiing and one of the best fly-fishing streams in America.
The Frying Pan River joins the Roaring Fork at Basalt and the next 25+ miles are considered the best fishing in Colorado. Near Carbondale, the Crystal river joins the river and makes the river into a larger classic trout stream providing some of the biggest fish in the state.
During the first week of July this stream really heats up when the Green Drake hatch hits the water. If you are planning to try this river for the first time this may be the perfect opportunity.

Roaring Fork Fishing Report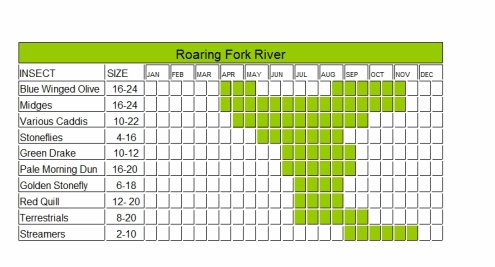 Roaring Fork River map is just a click away.

Leave this page and return to the Colorado page.